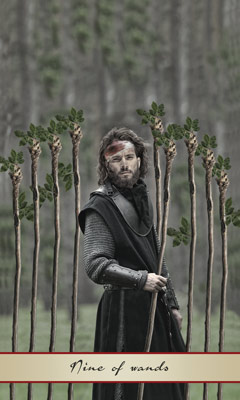 The Nine of Wands is often called the "Wounded Warrior" card. It shows that you have come through a period of difficulty. You have fought battles. You have faced challenges. It may be time to rest and regroup.
However, after you pause, Spirit encourages you to keep going. The challenges that you have faced have helped you to align your personal will with Divine will. You are in a more surrendered place now. As a result, you have true strength and power in the situation at hand.
---
You may have been working for a long time to achieve a career goal, putting the pieces in place to prepare yourself, and facing challenges and setbacks along the way. You are wondering, "Can I really do this? "
The answer is yes! The challenging experiences have tempered you and transformed you into the perfect person for the job.
If you are asking about a love relationship, you may have been experiencing ongoing conflict with your person. You think, "I really love this person, but it's so hard. Can this relationship work out?"
The Nine of Wands reminds you that you have been learning and growing through your conflict. You have become more aware of your needs and better able to set appropriate boundaries. You have also learned to take personal responsibility when necessary.
Believe in yourself. The inner strength that you have gained will allow you to live and love with more skillfulness and authenticity.
---
Affirmations: I align with Divine will. I gain strength through adversity.