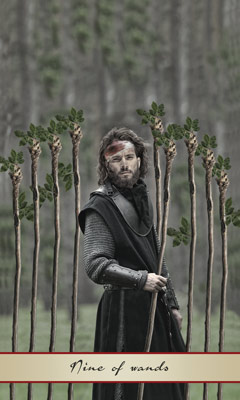 The Nine of Wands is a card that talks about defensiveness and perseverance.
When it comes up in my readings, it mostly focuses on perseverance and is telling you to hang in there. You're almost where you want to be. You might've been knocked down by setbacks, you might just be exhausted and tried of trying. This is a time that it's imperative for you to keep your resolve.
---
Perhaps you are feeling at the end of your rope in a relationship. Perhaps you have a job that is driving you a bit nuts. Or a project. Perhaps an illness you are conquering. Or merely waiting for your life to happen, when it seems like you've given it your all and not yet seen the results.
Stick things out for just a little while longer. I remember from college, a big poem hung on my friend's dorm room wall. It read: "And you never can tell just how close you are, It may be near when it seems so far; So stick to the fight when you're hardest hit - It's when things seem worst that you must not quit."
This poem has stuck in my head ever since, and will occasionally pop up as a reminder from my subconscious.
---
You will get there. Just a few steps further. You've got this.