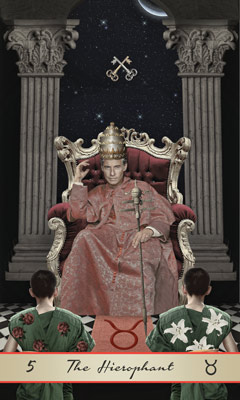 Card 1:

How you feel about yourself »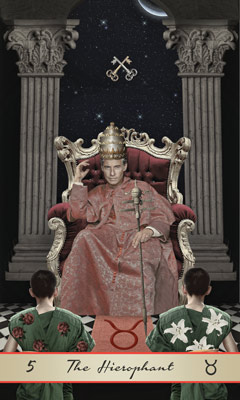 The Hierophant
You feel a need for advice or wise council or perhaps spiritual consolation. Someone, or perhaps immediate events, will provide moral and practical guidance. Perhaps you are considering becoming such a tutor, counsellor or spiritual advisor.
You desire the tried and tested traditional values, so when considering your options, this approach will prove wiser than adopting an unconventional novel approach. For example, marriage is more likely to be your desire than a living together situation.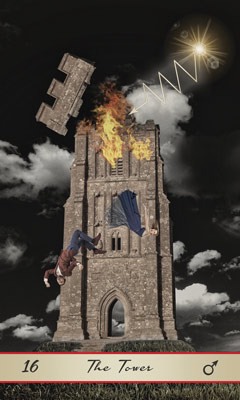 Card 2:

What you want most right now »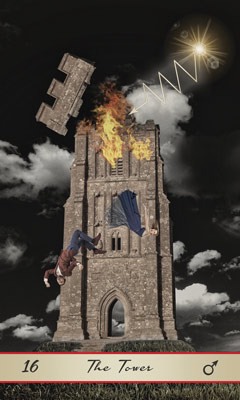 The Tower
You're probably looking for an easy solution to a difficult problem. However in life, turmoil and upheaval often bring about positive change - just not quite as we would like it.
Seize this opportunity that is forcing change as a chance for a new beginning.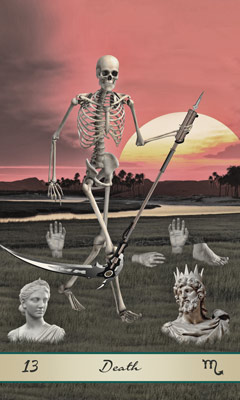 Card 3:

Your fears »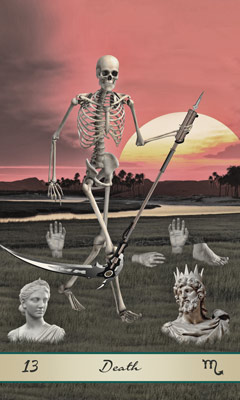 Death
You are afraid of experiencing turbulent and catastrophic change, as we all are, yet such challenging transformation in our lives helps create the space for something new.
If you are experiencing or have just experienced a job loss, a bereavement, divorce or the end of a relationship, these changes will allow new experiences and opportunities to enter your life.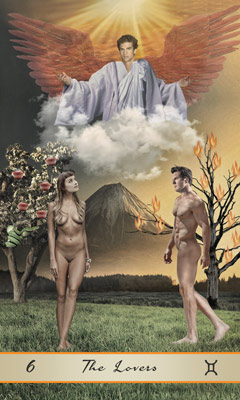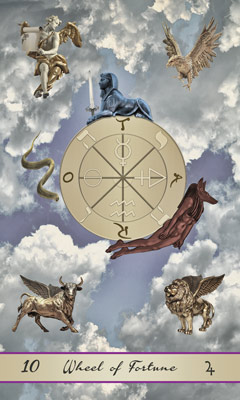 Card 5:

What is going against you »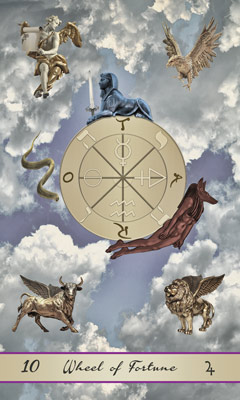 Wheel of Fortune
A run of bad luck here, perhaps already evident or there are certainly signs that things are not going your way.
The responsibility of important decisions weighs heavy with you where there are choices to make. Trust your intuition, and even if you have to make the painful decision to give up something in order to move on, then have the courage to do it.
Trust that The Wheel of Fortune constantly turns and whilst it may be against you at the moment, it will in time turn and bring you good fortune.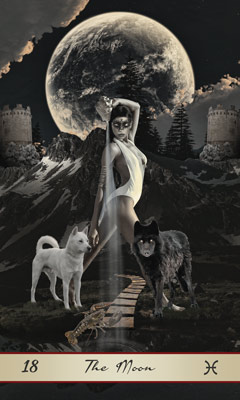 Card 6:

The likely outcome »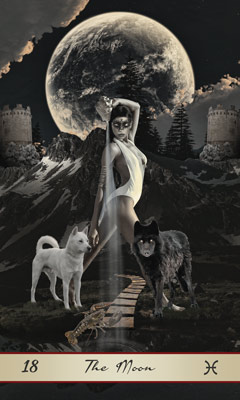 The Moon
Whilst you are confused and fearful and allowing your anxieties to hold you back, trust that all will turn out well in the end.
Things may seem tough or confusing but stick with it, it's right for you.
The Moon is a good omen if you are in a clandestine affair and helps guide you to open your mind to new and unexpected possibilities.
Safina
"Did you get your question answered?
...sometimes the online readings are just not enough and what you really need is to talk to a real live person"
Psychic Safina was excellent, I really connected with her, she is very caring and understanding and gives it to you straight. She was very, very accurate.
Safina is very precise about what is happening and her predictions are always on target. She's also great to guide you and offers great advice and wisdom and insight in her readiings. She's well worth it! Serry
Amazing... Three years ago she told me he will be back after he has stuff settled....and he is... Reshma
Amazing! Very... Very... Intuitive... I am speechless at how accurate this reading was!
Really amazing experience... I really loved this and will probably be coming back to her sooner rather than later! Adrianrene
Today was the most insightful session ever... I could never really believe tarot could be so accurate and know my deepest held feelings or what I was really thinking or going through... Truly inspired...
Needed closure... She definitely made me feel much better... Took the words right out of my mouth... Bvang
Amazing and mind-blowing is all I can say! The outcome is not in my favor, but it still means a lot to know someone understands and is comforting
Safina is Fabulous! She is so very accurate and compassionate. She is the only psychic that I use. Kimberly
The best. That's all I have to say. The absolute best.
Amazing in depth reading and astonishingly true! SaraRoma
Her predictions and insight into situations are so exact, it's eerie. On target, and always a tremendous help in dark times. Serry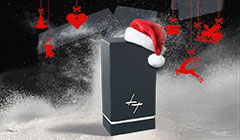 Like our Lotus Tarot Deck?
Explore it or buy it here »
FREE Lifetime Membership worth $79.95 with every Deck Purchase (offer ends December 31)