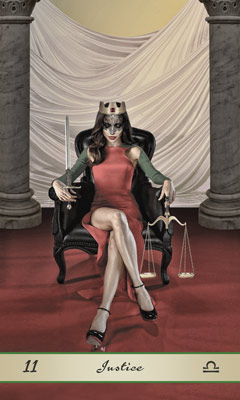 We are all accountable for our actions and this card represents the day when we may be called to explain ourselves. This could be in the form of legal or official matters, documents or certificates, lawsuits or investigations, or perhaps mediation in family issues.
Justice will be done where this card is present, there will be a fair outcome and all issues should be resolved.
---
If you have been wronged and seek justice then this card indicates that you will win the battle and be victorious, things will be handled with integrity and impartiality and the outcome promises to be fair and just. However, if you have 'wronged' someone else, you may find that Justice is served against you.
---
Remember that for justice to be served, someone will lose. This card indicates that a 'just' verdict will be delivered and balance will be restored.