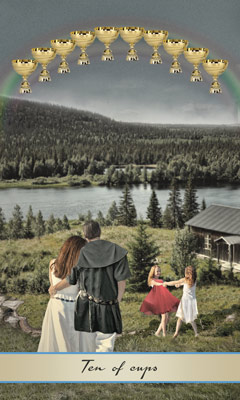 This is the happy endings card. Warm, strong, and lasting relationships.
Deep love, commitment and strong ties await you. This is the heart warming love you have been searching for all this time; it is within your reach now. This can also represent bonds with friends, children and family members. Stability, security and contentment are all associated with the Ten of Cups. Celebrate love and security and the bonds that tie us together.
---
Perhaps you are being reminded of the importance of family. You may have been warmed by the actions of someone close to you or find comfort around those that you trust.
---
We sometimes take family for granted, this card is about remembering what these people mean to us. Do they all know how much we love them? Why not call them and let them know right now?