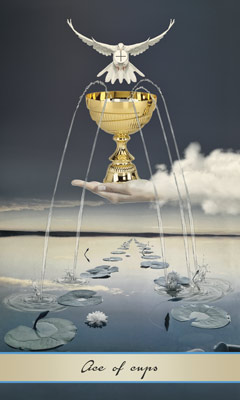 Who doesn't love the appearance of the Ace of Cups?
This card could mean new love, it could mean someone sending you a loving message, it could mean a new positive emotional situation.
As far as advice goes however, this Ace talks about being open to a situation or a person.
---
It's always so easy for us to want to hang onto what we think our future should be. This often makes us our own stumbling block. Most often our guts tell us this, but sometimes we are so feverish about moving forward into what we think we want, we forget to allow synchronicity into our lives here.
We forget to keep ourselves open to newer possibilities that maybe we didn't even think of that actually serve us BETTER than anything we could've imagined on our own.
So focus now on grounding yourself, taking care of yourself, nourishing yourself, RELAXING, and being open to new solutions.
---
Taking care of yourself could also mean going out and experiencing new things that would bring about a new emotional mindset for you.
So step out of your comfort zone and try something new!