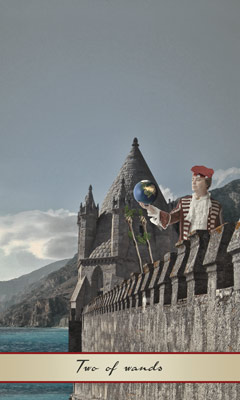 The Two of Wands is a card of successful partnerships on emotional and professional fronts. However, it is also a card of simmering dissatisfaction and disquiet.
In the Rider Waite deck a contemplative and imperious looking character casts his gaze towards the horizon. In his hand he holds a globe, a symbol not only of the victories which he has so far achieved but also of his ambition to extend his horizons beyond what he has previously thought possible.
---
He is in a state of suspended decision and is carefully considering his next step. These depictions suggest that your success has somehow left you unfulfilled and you are searching for that elusive "jackpot."
In a love reading, the Two of Wands is a mixed blessing. On the one hand, for established partnerships, it can show that the two of you work well together and that you can accomplish anything you set your minds to as a pair. On the other hand, for more recent connections, it can show that your partner is somehow not feeling content and is mulling over whether or not to proceed with you. More often than not, the Two of Wands foretells that although the two of you may work well together, there is a lack of passion in your connection and this may eventually begin to fracture your relationship. In terms of feelings, the Two of Wands suggests that your person of interest has other issues to which they need to attend and do not consider you a priority.
In a work and career reading the Two of Wands represents the appearance of a partnership and the importance of having an ally with whom you can lighten your load. If you have previously only worked alone, you are being given the opportunity to reassess your situation so that you can expand your reach of clientele.
---
Positive Aspects: partnership, allies, partial success, ambition
Negative Aspects: dissatisfaction, lack of passion, eventual boredom in a romance, partnership of convenience, delayed decisions