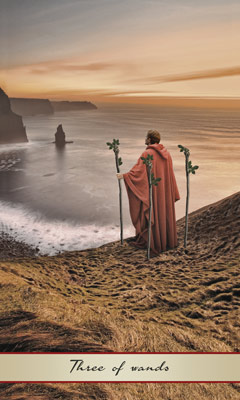 Additional deck interpretation:
The Three of Wands points you towards a path of the preliminary completion of a creative project as you continue your journey through the seventy-eight passageways of growth. This is the level on your continuous cycle of change when you discover there is much more to do before you can enjoy the final manifestation of your dream.
A dream finally took root because you made it happen. You probably felt like an ignited missile on a mission to achieve success.
---
There are three wands in this card and they have taken root! The first wand is associated with a thought that manifested into a flame of action, the second wand is related to making a big decision, and the third wand is associated with taking command and being committed to achieving success.
Sometimes you need to step outside your comfort zone, take a risk and walk into unexplored areas. You might run into a few detours and obstacles, but you need to stay positive and tackle things one step at a time and not give up because you will experience a beautiful outcome!
The Three of Wands is called the "Boat Card" in my deck. The boat is something that you really want and desire with great passion. Boats are named after women because they are beautiful, but the boat is associated with your yearning and excitement to achieve a beautiful dream.
The boat could be a venture, a new car, a new house, a new boat, a new job, or a new relationship. The boat stands for something that you really want that nobody can dissuade you from and it indicates a very exciting time in your life.
Numerical Number 3: This number is related to the path of a venture that is falling in place and on course. The archetype did not hook up with a partner, but decided to go it alone and build a strong foundation without the help of others.
It is also associated with harvesting a dream that is very important to you. The 3 vibration represents the time when you will expand, give birth to life and create something beautiful.
The Element of Fire: The Three of Wands is associated with the Sun (what you want) and the zodiac sign of Aries. The combination of the Sun in Aries is the power we all have within ourselves to go after what we want to achieve.
---
Probable Outcome: Your new lifestyle nears a successful completion. There is more work to be done with your goal or venture, but you will continue to move forward with confidence, having built a strong foundation.
You decided not to become involved with a partner, so you built a strong foundation by yourself.
At this time you might not be interested in a romantic relationship because you want to put all your time and efforts into a new goal or venture and you are committed to make it work.
Perhaps you will purchase a new car, a new house, a new boat, or start a new job.
Possible Outcome: Your new lifestyle is not nearing successful completion because you set your goals too high, or you are experiencing delays, disappointments, or stiff completion. You might feel like you are spinning your wheels and going nowhere because nothing is happening as planned or you might need to join together with the right partner to achieve success.
Perhaps you decided that you are happy with what you have already achieved and do not need a new car, new house, a new boat, or a new job.
Then again, you might not be able to channel the Three of Wand's energies into your lifestyle. If this is the case, then you have probably decided to pursue the relationship of your dreams rather than complete other ventures you had started.
Timing: The Three of Wands predicts that an important thought will be turned into action. This event may occur in the next days or weeks to come.