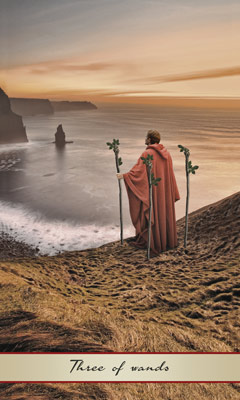 The Three of Wands has a few major meanings when I pull it for clients. It can talk about putting yourself out there more, it could suggest taking a short trip, it could talk about a breakup being temporary, or it could mean that you need a solid break to recharge.
Let's first talk about getting more exposure. Sometimes you are not ready to be in the spotlight, but this card is a signal that you will be okay, and it is also a reminder that if you want more results, this is an integral step.
---
Maybe you should investigate some dating apps or sites where you can meet someone. Perhaps you need to apply for more jobs or put your art projects or business out into the world more.
While sometimes it can be scary, since we are unsure if we are going to get the results we want, it's so important to remember the possibilities and to remember to be comfortable with the process of doing so. We also need to trust that whatever comes back to us, we are smart enough to know what to turn down and what will be to our advantage to take.
Worried that you aren't at that point yet? Make sure you are taking the time to self-nurture so you can maintain that connection to yourself and your values and worth.
Also maintain your centered quality so you can listen to your gut. Be very careful when you do this to make sure you aren't staking your well-being on results you have no control over. Trying to outline what you want I think will help empower you, but again it comes back to the element of trust to see what results you yield.
Next, let's talk about temporary breakups. It's really easy to lose our compass when we don't know what's going to happen if an ex might show back up, especially when we feel they will. When there is no action for you to take, it's important that you look at this break as a means for you both to evolve in such a way that you will be stronger when you get back together. By making sure you are doing right by yourself and taking CARE of yourself, and again trusting that things are happening the way they are meant to right now, you will be on firmer ground for it, not just with the partner you wish to be with, but with everyone around you.
---
As far as taking breaks, most of us live in a culture where taking breaks is something that is frowned upon, that working ourselves into oblivion is the way to go. This is not true. And while some are waking up to the benefits of taking a break, it is up to you to make sure you make this as a priority at points.
This break could just be an afternoon reading a book, or a day trip, a long walk, whatever helps shift your energy and open your world a little bit. So if a vacation, or a staycation, or whatever has been floating through your mind as a fantasy, take concrete steps to making it happen.