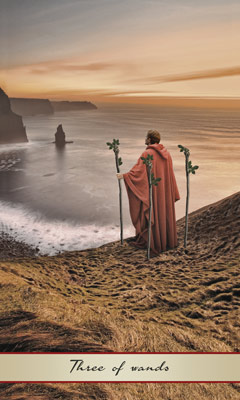 "I can do this… I can start over. I can save my own life and I'm never going to be alone as long as I have stars to wish on and people to still love." - Jennifer Elisabeth,
Element of fire power: The Three of Wands is about developing and maintaining high standards of behavior, and learning to have the confidence, self-belief and strength of character to live out those standards. We usually retreat inward in a disappointed state of feeling ashamed of ourselves.
---
We can then take a long time to climb back up to the higher ground from which we can regard our own acts as part of the grand pattern of life. And, in the meantime, we continue to disappoint ourselves.
This card tells us that we may have to use strategies and techniques to reduce the number of times we feel we let ourselves down. We may have to learn to implement forgiving ourselves and learn to recover lost energy.
On a day ruled by the Three of Wands you are urged to make a personal promise that you will spend a little time moving back into the center of yourself. The Three of Wands also represents lotus blossoms which are in the process of opening. This blossoming is the result of an inner awakening. Body, intellect, and spirit are in harmony.
Sit quietly and gently draw in breath, directing it to your heart center and allowing it to fill you up with energy. When you have done that, spend a few more minutes thinking about your position and what you stand for. Ask yourself if you are out of alignment with your higher Self. Focus on each issue one at a time, rather than allowing yourself to be overwhelmed. If you find something that you are unhappy with, take a deep breath and write every thought down, without judging yourself.
Go to the core of the problem, and do not blame anybody else. When you find the core reason, write it down on a piece of paper, tear the paper into several different pieces and throw them in the rubbish bin.
You perceive and allow your personal power, never giving it over to someone else in an attitude of subjugation. It is important to maintain internal stillness, like the eye of a storm. This stillness allows a new sense of self-confidence to come into being, and guards against an overload of unnecessary problems.
---
At times of imbalance: Overthinking your situation does not assist you. Question yourself, "Is there any reason for self-doubt?"
Medicine: Pay attention to your own point and internal stillness. Center yourself and overcome feelings of doubts that may still linger within. The wisdom within is strong enough to push away any anxieties and doubts which may arise.
Mantra: I have the power to reflect and know.