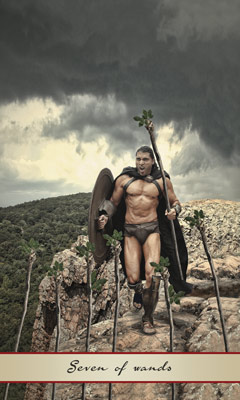 "You create your own reality" - Jane Roberts
Element of fire power: The Seven of Wands indicates that you persevere with the "good fight." The fight will be carried out with precision and perfection - or as close to perfection as it is possible in your life path. As a warrior on your life path, you will strike without hesitation and can be assured of a victory.
---
The Seven of Wands represents an increase in energy. It has now become apparent that you have drawn attention in your achievements. Expect some resistance from all directions. Do not take this resistance personally as it is now the opportunity for you to embark and create more in what you would like to achieve.
The Seven of Wands expresses an intense focus on the conditions. You are required to be valiant to grow in your personal experience. This energy is an ability to learn from past experience. If you apply the recipe of your path up to this point, you will be able to overcome any risks with greater awareness. The fire power is strong and burns without hesitation but suggests that you can not allow yourself to compromise now, because compromising would cause self-doubt and has the potential to change your reality.
It is time for you to stand your ground and to remain true to your energies without judgement. Ask yourself if you are ready to accept all challenges. Become aware of hidden fears that have prevented you from asserting yourself on this path now.
The Seven of Wands also suggests that you become aware of the timing and that all is related to this present moment. You may want to connect with close friends and family who are always in support of you. It is important to note that when this card appears in your reading, that you maintain a strong point of view and to speak with awareness of what is in your heart and in your head.
Do not allow any external presence or energy topple you. Remain true to what you have been feeling you may want to resolve in your life path. Be truthful to your internal energy. This is part of your own reality. The universe requires you to stay focused in your reality.
Remember to be like a bamboo flute, to allow the energy to flow through you but to not change your note.
---
At times of Imbalance: Sometimes, threat or opposition may catch you by surprise and you feel inadequately prepared for such a battle. An example of this kind of energy is similar to a man rushing to put his shoes on and ends up with a mismatched pair; you must scramble to fight even though you don't have everything in place. To be better prepared next time, the Seven of Wands encourages you to map out any potential threats or risks before moving ahead with your plans. That way, you can have a 'worst-case scenario' plan ready to go.
Medicine: Being true to yourself includes standing up for your own truth even in the face of immense resistance. Trust your power. In this present situation, you must assert yourself at all costs.
Mantra: I express my own reality openly and honestly.