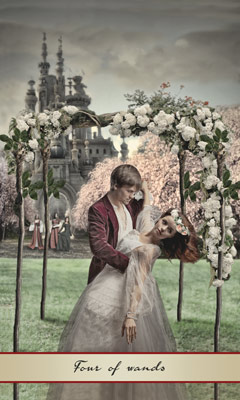 The Four of Wands foretells a time of stability, celebrations, social gatherings, involvement in rural life, and hard-earned rest. It frequently signifies successful house moves, religious or artistic festivals, marriages, baptisms and the approval of your family. The Four of Wands is a very family-orientated card, and can represent the formation or merging of families. If, however, you have had concerns about your relations on your mind, this card is an excellent omen reassuring you that all shall soon be well.
---
In a broad sense, since its main theme is stability and security, it is a most welcome card to receive as it predicts that all at home, financially and emotionally, will reach some degree of equilibrium and you can enjoy a well-deserved reprieve from your previous travails. Although generally an overwhelmingly positive card, if it shows in a negative aspect or position, it can indicate that either your home life is in disarray, or that you are too mired in your comfort zone and unwilling to meet new people or try new things.
In the Rider Waite deck a pastoral scene is depicted with two female characters standing triumphantly beneath a marquee, signifying celebrations, a period of peaceful harmony, and victory. The two figures appear to beckon the querent to join their festivities and as such this indicates an invitation of some sort.
In a love reading, the Four of Wands is an excellent card to have appear as it signifies that you will be moving house, and that you will be entering a joyful new chapter in your life. If you are wondering whether or not your significant other is taking your relationship seriously, wonder no more as this card often represents that the two of you will take the next major step in your relationship and either move in with one another or begin to discuss the prospect of such a move. In the early stages of a relationship the Four of Wands signals that your person of interest finds great comfort in your presence, that they would rather have you around than not as life seems to be so much more interesting with you in it.
The Four of Wands can also reference home improvements, taking pride in your home environment and embarking on these projects as a couple. In terms of feelings, it shows that your partner is at a stage where they'd like to settle down and that they see you as a strong. It can also foreshadow meeting their wider circle of friends, or even their family.
If this card shows in a negative aspect it can indicate that the balance in your relationship has been upset or that your partner, although dedicated to you, is not in any rush to commit presently. If the Four of Wands is paired with the Hermit card, this is a more lugubrious omen, perhaps foretelling that the two of you will move in together but not find peace in one another's company and begin to lead separate lives, Or, it can predict a reluctant split and division of households.
In a work and career reading, this is an atypical card to appear, but when it does, it foreshadows a time when your career is at a high point so much so that you may be able to invest in the property market. More prosaically, it can indicate a profession linked to property. The Four of Wands can also predict a change of work and business premises, or that a working-from-home job is foreseen.
---
Positive Aspects: house move, celebrations, a time of stability both emotionally and financially, taking a relationship to a new level of commitment, home improvements, meeting your partner's friends and family
Negative Aspects: social reclusiveness, introversion