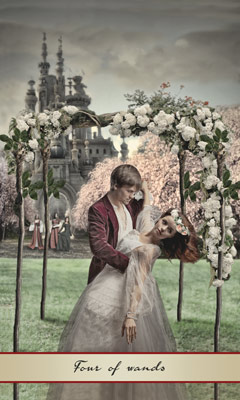 The Four of Wands is a card of great fortune. You are graced with peace, security, good love, and joy!
This good fortune often comes comes to you unexpectedly, taking you fully by surprise. You have been gifted by the heavens.
When this card appears, you know that you have kept your heart open to the generous gifting that life can provide. You did not have to work hard for this gift. You asked and you received!
---
You understood the lovingness of the universe. You perceived the universe as a kind parent, loving to give you everything good. Even if you did not articulate this to yourself, you kept your heart available for receiving.
You may have only asked for some of what came, yet been showered with much more. It is now a time to enjoy all that is yours with thanks.
When you experience Four of Wands consciousness, you feel grateful and well-treated. You tend to be very responsible for what is given to you. As you did not work a lot for it, you work from it and to protect it. This is wise and caring.
Being gifted with all basics needed and more, you have time to pursue what you most love. You have time to attend well to your loved ones, to enjoy life fully. You may be extra attentive to home care such as cooking, cleaning, or handyman tasks.
You like what you have and treat it well. You treat your body and mind well too. You stay healthy, fill your world with positive thoughts. You give generously to mates and children, both human and animal.
The Four of Wands consciousness is free of guilt or shame about having! It is a consciousness that allows the best in. It is generous thought, not in any way of agenda or martyrdom, but more so in a responsible way of sharing what one has in a balanced way for self and others.
---
If you are not utilizing Four of Wands consciousness, you are not letting in your good! Either you don't trust you can have it, or you don't trust you will be well-received once you do. You may be involved in some distraction that blocks the good. Time for intricate introspection and shifting of thoughts - potentially some actions too.
The Four of Wands is a card of balanced fortune in all ways.
Contemplation
When you gracefully receive its consciousness, this card requires no contemplation. You are on track in every way. Enjoy!
If the energy from this card makes you uncomfortable, take an honest look at your beliefs. Are any of them worth changing? Do you need help to make those changes?
Meditation
You are already in a life mediation, enjoying what is. Continue with that.