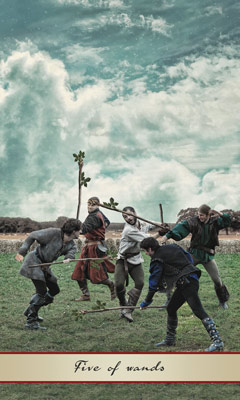 Additional deck interpretation:
The Five of Wands points you towards a path of fighting your way through obstacles, continually struggling to finalize your dreams as you continue your journey through the seventy-eight passageways of growth.
This is the level on your continuous cycle of change where you must dig deep within to overcome an unexpected event. This event might make you start over again, but you will not see the beauty in this unsettling experience until a later date.
---
Sometimes we get caught off guard by unexpected events, struggles or the appearance of a 'hidden prophecy'. The beauty is that these struggles make you grow. They could help you connect with the right groups of people, the right relationships, the right job, or the right career.
You may not see the beauty in these struggles at the time, but they helped you get to where you are right NOW! Have you ever heard the comments, "no pain, no gain," or "no conflict, no growth"?
Examples of a hidden prophecy: You love your job, but you work with someone who has a big ego and the relationship with this person always becomes a recipe for disaster, or a BIG POWER STRUGGLE that tests you with every step that you take.
Or you might be dealing with someone who does not want to listen to your point of view, or is always competing with you and nothing ever changes.
It's also possible that you might be dealing with someone who wears "The Ego Crown" and thinks they can push you around. You need to stand up to someone when you are not treated with respect.
Then again, you might have contributed to the problem by pushing your point of view or opinion on someone.
Numerical Number 5: This number is related to the time of a crisis and making an adjustment to overcome a problem, or the time when you will experience a hidden prophecy that makes you start over to expand at a later date.
The Element of Fire: The Five of Wands is associated with the Sun (the ego) and the zodiac sign of Leo. The combination of the Sun in Leo gives you the power to meet challenges, but also makes you want to lead and not be led by others.
---
Probable Outcome: You might feel like you are being tested all the time, but you know that whatever or whoever tests you also makes you stronger.
You might feel like every time you go up to bat, you end up striking out and never make it to first base because the people close to you, or who work with you, do not agree with you and nothing gets resolved.
Although you understand that strife makes you stronger, sometimes your courage may weaken a little. Even though you may have to give a little here and there, don't totally abandon your original goal.
Possible Outcome: You could be dodging the bullets to stay out of conflicts, or someone in the group that you work with wants you to fail so they can take your position or want to make you look bad so they can look better.
Or your relationship might break down and force you to start over. The only way to start over is to break away from the existing path so you are totally free from it. You might not see the beauty in this nasty experience until a later date.
Then again, you might not be able to channel the Five of Wands energies into your lifestyle. If this is the case, then you are not willing to put up with unethical people and you are on the verge of making a decision to leave at a later date, but you still have more planning to do.
Timing: The Five of Wands is related to an important thought that is turned into action. A hidden prophecy or unexpected event may be on the verge of happening in the next 1-3 weeks.
The timing shifts when you arrive at the cards that are enumerated five. These cards represent difficult challenges and some of these challenges are out of your control and cannot be resolved.