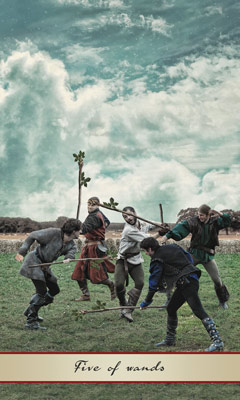 This is a card that usually involves more than one person. Quite often there are several people involved and the relationship between each person is far from harmonious.
Squabbles, misunderstandings and gossip can abound and as Wands tend to be energetic then you can imagine how any misunderstandings may quickly turn into bigger problems without too much input from yourself.
---
In fact, what you need to watch with the 5 Wands is others around you as they may well be the culprits causing the problems.
Depending on other cards close to the 5 Wands there is a tendency to draw this card when you have problems with more than one person. You may not know there are others involved in your difficulties but if you scratch the surface you will see that what appears to be clear cut may actually be a bit more intricate.
You can also experience some competition when it comes to the 5 Wands and as this is not a healthy competition then you need to watch your back, especially as what you are hoping to win may be taken from you through a malicious or underhanded act from others.
---
The love interest you may be pursuing so keenly could turn out to have a few other admirers which means you may need to do your homework first on where you stand with him or her.
If you are thinking of changing jobs or careers it may be best to listen to your own counsel when it comes to what you would like to do next as the pettiness from others could set you back a few steps which in turn blocks your path to success.
The 5 Wands will require you to rise above the negatives around you. To put on a brave face, so to speak, and believe in your "Self".