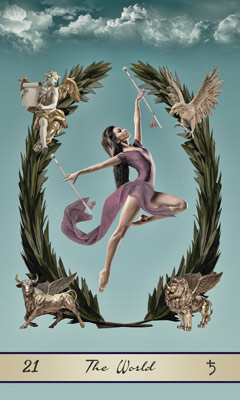 The World ushers in a time of great fulfillment and joy. You've come a long way, perhaps even full circle. Celebrate your many accomplishments and successes!
You are feeling on top of the world right now. Anything that you set your heart to can be achieved.
The hard work that you've put in has been noticed and the seeds you planted are coming to fruition. Now is the time for you to realize and commit to your goals.
---
There is a lot of positive momentum on your side and things are really going your way.
Take note of the blessings that are unfolding around you and you will begin to see and attract even more!
An opportunity to travel or take a trip may be presented to you in your near future.
A vacation or a holiday would be a great way to celebrate your successes as well as open you up to new opportunities that may come knocking.
You've been working with a wonderful team and have had tremendous support from your family and friends. Remember that you are also fully supported by your guides and angels from the other side.
---
Continue to work in unison with those around you. Miracles happen when you join together and work towards a common goal.
Now is a fantastic time to become involved in something that truly matters to you. What ways can you contribute to make this world better?
You have a unique calling and can help make progressive change! Share your gifts with the world, and it will become a better place!
We experience fulfillment when we help and are in service to others. We receive blessings when we are a blessing to others.
How can you shine your light into the world?