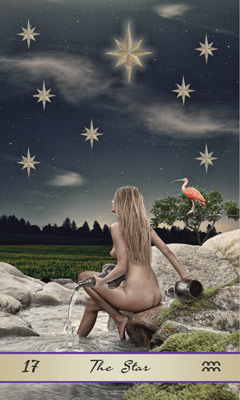 You may have been feeling in a dark place lately, confused about where to go next, or which way to turn. Don't allow the darkness to consume you any longer.
The stars have long been looked to as a source of inspiration and direction.
The Star card reveals that there is a light at the end of the tunnel for you. Carry some hope in your heart; you will soon be experiencing a time of clarity, healing, and peace.
---
Even though it may be clouded, rest assured that you are on the right path. Try to look at your situation from a bigger picture.
The Star card brings illuminated understanding that is gained during during our darkest times. You have endured a lot, and will soon understand the lessons behind these trials.
Begin by counting your current blessings and you will soon have peace in the here and now and restored hope in the future.
The easiest way to bring clarity to the present is by taking time out for a moment of gratitude each day. Count your blessings each morning and night and watch what happens!
---
The Star is a reminder that whatever you focus on will grow and multiply.
Build positive momentum for yourself by focusing on what is working for you, and you will begin to see more of it show up in your daily life!
Focusing on your worries will only bring you more things to worry about, so don't waste your time creating things you don't want.
Now is the time to focus your thoughts and emotions on gratitude and hope and allow your life story to unfold the way you want it to.