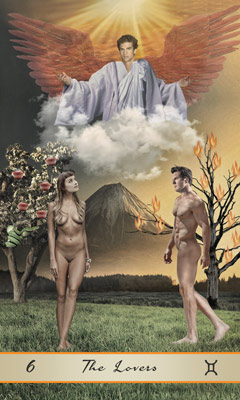 All kinds of partnerships are found in love.
While the Lovers card can be the sign of marriage, romantic, sexual and lifemate partnership, it can indicate other forms of working in twos. Two can be human or animal.
Lovers give new expansion, balance, and harmony to each other via their different characteristics, strengths and talents. They also help each other to grow and expand their horizons.
---
Being with another will bring about character weaknesses and challenges ready for healing and help!
Partnership provides ground for forgiveness, humbling, and compassion. When there are two in any personal or professional endeavor, humanness is brought forth by sharing of strengths and weaknesses. We see gifts of our own personalities that we took for granted, and weaknesses of our own selves that are ready for assistance.
Whatever the context, the Lovers indicate two beings that work in tandem in some way. It could indicate an arriving or present human or animal-child that may become partnered in some way.
Many will think this card means a spouse is with you or on the way. Friends and colleagues may see it as a platonic "heart-loving" card rather than a sexual, romantic one.
Are you currently enjoying a partnership that fills your heart? This card emphasizes the great gift such an experience can be. Shower your companion with love and gratitude. Learn what supports the other one best. Acts of care, words of acknowledgement, gifts of valuable use, affection, and a listening ear create a lasting and positive foundation.
If you are not in some kind of happy partnership when this card is drawn, one is likely on the way. Prepare your heart, workspace and home to welcome a new human or animal.
This card asks you to avail yourself to learning and mystery. When another important being is in our personal world, we are destined for good changes as long as we remain in gratitude and keep our hearts open.
If you have trouble staying the course, there may be difficulty in a partnership, or difficulty soon to come. This need not be seen as negative in any way. The most challenging times can be the greatest learning times, preparing wonderful miracles for the future. After rotten food composts fully, fertile ground for healthy food and flowers is created!
---
Recognizing your tendency to stray indicates that growth is invited. Do you need some coaching or therapy? Are you being compassionate and patient with the challenges of self or others? Are you expressing appreciation for the gifts you and another give to each other or taking all this for granted?
Give gratitude and forgiveness unconditionally! These two practices are the basis of fulfillment that grows.
If you chose the lover card, your soul signed on for learning in cooperation.
Contemplation
What are five ways I can contribute to the happiness of someone with whom I share closeness? This may be a person or an animal.
What are five ways this being can contribute to my happiness?
Am I willing to let this being know about these five ways? The best relationships are created when participants openly share their desires and needs. This gives the other one involved more opportunity to contribute.
Meditation
Meditate on gratitude for your partner experience, the partner, and yourself.