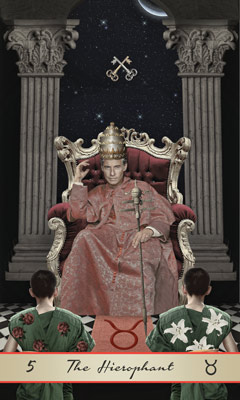 "Knowing others is wisdom; knowing the self is enlightenment." - Lao Tzu, Tao Te Ching
The Hierophant is the holy man and the spiritual teacher, the one who asks us to look at our inner values - the sacred silent space where we connect with a Presence higher than ourselves.
He teaches us about what we can share with others, how to be a leader for others needing spiritual guidance, how to teach inner values and how to learn these lessons for ourselves.
---
The Hierophant suggests self-awareness, intellectual tradition and spiritually.
The Hierophant represents a universal symbol of belief and confession, be it in religious constructs or universal faith services, churches or certain spiritual societies. He is at times the pope, the druid, or a priest in a system of creeds, dogmas and certain spiritual orders.
He also represents the religious and intellectual traditions of a person, and may even have chosen to become a spiritual leader.
What are your inner values?
Examine your inner beliefs about yourself, connect with your gifts, not only the ones that you can see and touch, but the gifts that are unique to you, your inner truth and your inner guidance. You are reminded that you have a unique knowledge of experiences that can often be of aid to others in their lives.
This card also establishes generosity, not only in receiving, but in giving from the heart, leading someone to find their higher purpose, a leader and a guide to the spiritual path that is within.
Invite others to be part of your awareness. Celebrate the many truths that you see, but only acknowledge the one that is part of your destiny, your life path. We are all meant to be leaders for ourselves and for the ones that we love, constantly caring even for the child, not only as a parent but as a nurturer of the soul and the heart.
Seek the answers first within. Trust in your instincts, your higher Self, your dreams and what you sense, This is the invitation for you to become independent in matters of your beliefs. At times you will break down old ones to make way for new ones.
---
We are continuously growing and evolving spiritually. Come together with friends and people you trust, and celebrate in the awareness. Pray together, meditate together, nurture nature, love yourself, take time out to watch the sunset or the sunrise, connect within, be a friend and lover to yourself first.
When you are out of balance: Getting lost in the rabbit hole of things could distract you from your inner truth.
Medicine: Search for hidden truths, trust in inner instincts. Seek and work on your own wisdom and understand the knowledge of not just what you learn from others, but also from within, free from all distractions and beliefs that don't serve the heart.
Mantra: I have infinite wisdom.