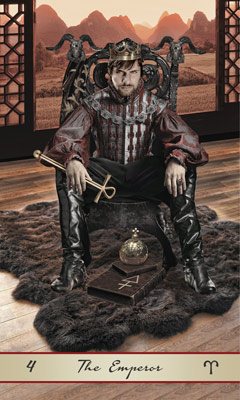 We may have been conditioned to think of the Emperor as an authority figure who reigns over others.
The Emperor, in quintessential pure form, takes everyone's needs into account, setting a foundation for the good of all.
The true Emperor is a servant to all, someone who has a kind heart, genuine manners for the sake of honor and respect, and a thoughtful mind.
---
He knows self-respect because he gives genuine respect to everyone else. He looks for the unique traits that exemplify each person's and animal's goodness. He sets up systems to support the well-being of every living creature. He shines light on the best in all.
The Emperor will look for ways to inspire each person to be their best. He will come up with environmental designs that bring out each member's talents for the benefit of all.
Are you looking to see how you can bring about others' triumphs? Are you sensitive to ways in which particular humans and animals will blend in harmony? Are you putting community before selfish urges? An Emperor does this naturally, warmly and with genuine joy.
This card honors your benevolent and selfless care. Generally, you are patient. If at times you feel disappointed that something is not ideal for one of your loved ones, know that person truly is okay through better and worse. Your care has a lot to do with this.
If you chose to ignore your Emperor-essence, you are ignoring your care for others. You have become selfish and unhappy. You are straying from the full warmth you can naturally embody.
Has something caused you to shrink from your power? Are you afraid of others' wrath or disappointment in you? Look into what is stopping you from being who you really are. Come back to your heart.
---
Most cannot see the extent of focus you place on everyone else and the sacrifices this takes. Most do not have minds that work in the selfless ways yours does. This can lead to disruptive surprises at times.
You can feel shocked at the contents of another's selfishness when they speak their mind to you in depth. Oddly, this can leave you questioning yourself or feeling your ground has been shaken. Be gentle and kind to yourself as you try to regain your stability.
This card attests that you certainly are a person who values the welfare of community. Make sure you apply the attributes of the card tenfold to your own immediate family. The Emperor can get spread too thin.
Contemplation
Am I feeling uncomfortable with some imperfections in the community environment? Can I forgive others for the reality of imperfection?
Am I giving more than receiving? Would it be valuable to ask for some help?
Meditation
Meditate on the natural kindness you extend to others. Bathe in this kindness silently and quietly for your own self-nourishment.