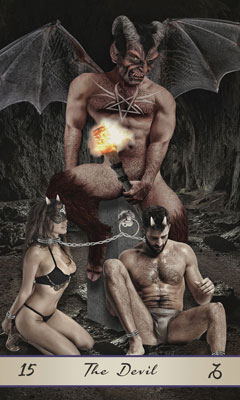 Do you feel as if someone is pulling your strings and perhaps you are feeling trapped? This may be a job, a way of looking at your life, a relationship or simply just feeling as if you have nowhere to go or any ambition.
Whatever it is, it looks as if it will be hard to sever your ties with it and set yourself free, and in certain circumstances you may not want to.
---
This is also the sex card. It may stand for the type of sexual union that you find hard to give up, or has you caught in a power struggle. Notice the chains that bind the male and female. There is nothing easy about leaving this type of attraction. Depending on the cards around it, you can see if it is a healthy union or an unhealthy union between the man and woman.
Do not expect change to happen quickly when you get this card. The chains that bind the man and woman are made of steel and cannot be broken easily. If this is an obsessive relationship then you can see the problem. Each person in the relationship fuels the flames for the other, yet they both feel stuck as if they don't see any other way out or indeed if they have a choice.
---
If you feel that your union with another is unhealthy, perhaps you may wish to look at this image for a while and see if you can find a part of the image that gives you an escape route. If your union with another is healthy, enjoy it. The card of the Devil has two sides and you need to decide how, or if, it is working for you.