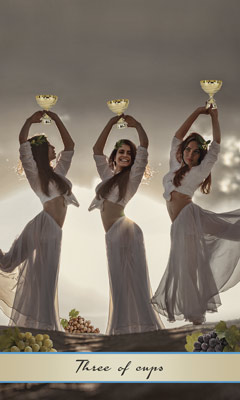 Additional deck interpretation:
The Three of Cups points you towards a path of forming close bonds with others to build a solid support base as you continue your journey through the seventy-eight passageways of growth.
This is the level on your continuous cycle of change when you unite with others, share good times with partners, close friends, family members, or professional associates, plan parties, have parties and experience wonderfully joyful occasions.
---
This card is associated with connecting with your friends (personal or professional) and interfacing with others. There is a warm and joyous feeling about this card, reflecting the deep love and respect that you share with your lover, children, family, friends, and associates.
You may feel lucky and blessed to have this group of people in your life because you know they are true and loving people who care about you. These are the people who will be there for you in future times of need.
Numerical Number 3: This number is associated with harvesting a dream that is very important to you. The 3 vibration represents the time when you will expand, give birth to life and create something beautiful with the people you are close to.
The Element of Water: The Three of Cups is associated with the elemental water qualities of the planet Pluto (germination) and the zodiac sign of Cancer. The combination of Pluto in Cancer makes you need to have secure relationships to feel at your best.
---
Probable Outcome: This is a time of happiness and celebrating with others which may include a family reunion, party, bridal shower, reception, christening, or wedding. It also might be the girls' or boys' night out, or a holiday gathering.
You may have received the promotion you were counting on.
You might be in the process of making up and reuniting with someone.
Or you might be celebrating a pregnancy.
Possible Outcome: This is a time when relationships are strained and suffering from difficulties. You might be experiencing a fight, misunderstanding, or a breakup.
Your daily routines or work responsibilities could be preventing you from attending any family or friend's celebrations.
It's possible that you did not get the promotion you were counting on, or the groups you were close to now feel strained. There might be gossip going on, or the group is excluding you completely.
You might be resorting to binge drinking to relieve your stress.
Or you might have experienced a miscarriage, or are having trouble conceiving a child.
Then again, you may be unable to channel the energies of the Three of Cups into your life. If this is the case, you probably do not want to hang out with a particular group because of hurtful gossip and you have decided to make new friends.
It's also possible that you are attracted to a person in the group who is married or you are having a secret affair with that person.
Timing: The Three of Cups predicts that your intuition and emotions are turned into action so you can live your dreams. This event may occur in the next weeks or months to come.