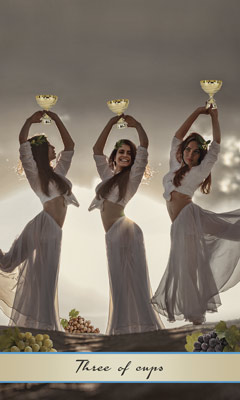 "Dance, when you're broken open. Dance, if you've torn the bandage off. Dance in the middle of the fighting. Dance in your blood. Dance when you're perfectly free."
~ Rumi
The Three of Cups is a card of celebration, of friendship, of being grateful for it all!
This card whispers in your ear, It's time to dance!
---
The three of cups beckons you to let your hair down, to get a bit wild, and to cherish everyone and everything in your life. You are on fire, it is time to shine bright, to get big and to share in the beauty with the ones you love!
Today look around at the people in your life. You have called them all in to honor and love you, and they have called you in for the same reason. Cherish the love that is present in your life and be grateful. You live in abundance, you need not worry, ever! You need only hold true in your heart that this life, your life, is delicious. You are on the path and it is taking you home to your greatest dreams! They are coming true right now, can you feel it?
The three of cups speaks of celebrating life, and enjoying all aspects of the process. It calls you to be aligned with who you are and what you intend to create. The three of cups represents the law of attraction - what you think you create so think good thoughts! Play big, it is time, our entire world is waking up, you are safe, you can jump in, the universe will catch you! Follow your bliss!
And remember to have fun. To play, play, play. To dance like nobody's watching! This life is supposed to be fun, to feel good, so get out there and dance!
---
Today's Meditation:
Turn some music up really loud and dance!