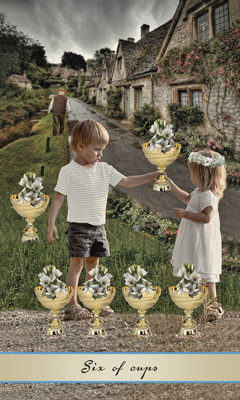 Nostalgia is in the air. You are missing easier times from more carefree days. This longing can lead you to loneliness and contraction if not handled well. Or, it can lead you to birth and expansion if navigated wisely.
You can cause yourself isolation if you reject the challenges of life today. Or you can embrace today, while imagining future times of greater joy. The latter choice can bring you better times than ever.
---
When life gets difficult, remembering what was fulfilling can serve as a time out. It can also serve as hope. However, if we get too fixated on what used to be and begin overspending time in our imagination, we miss today's lessons. We get stuck.
If we can embrace the challenging feelings of now, other wonderful feelings will quickly recur which will result in new, delightful experiences. These can lead to new feelings of bliss, peace and connectedness. Happy memories remind us of what we do like to experience, so more of such can come in ways appropriate to the present time.
What did you love about times past? Which aspects? As time moves along we may forget that even our favorite times had their own set of challenges. Focus on what you did love. Rather than getting lost in it, ask for more of it now, in ways that will enliven you now!
What do you dislike about now? How can you face today so that it becomes a positive gift rather than a burden? Can you find solutions for today's problems? Can you sit with today's feelings so that they dissipate instead of take over? Receiving help from a counselor or healer may be appropriate.
When you reject the Six of Cups consciousness, you are straying deeply from any semblance of current reality. You are lost in fantasy to the point of deep detriment. You immerse yourself in the past as though it is a television cartoon. You may be using electronic devices, alcohol, drugs, or sleep to push life away. Trouble is on it's way. Time to seek help!
---
The Six of Cups can be a very promising card when it's energy is used well. By looking at the essence of past favorable experiences, you can bring new positive experiences your way. Get to work-play on using your love of happy times well, as guided above. All good will come.
Contemplation
Remember happy times. Ask for more of these happy times to come in ways that expand your awareness and joys now.
Meditation
Focus on the place inside you that generates happiness unconditionally. It is there. Look and feel inside your own heart until you remember.