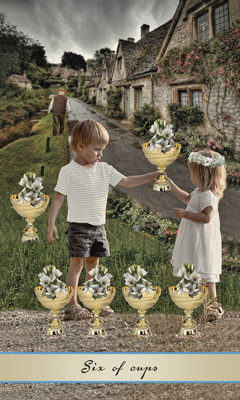 This six relates to history. The return of old friends or lovers. Happy memories. Old friends may be returning, or an old love affair may be rekindled at this time.
The past holds the key to the future. You may be at a point where you look back over your life at your childhood, key moments that brought you joy, past loves that left a mark on your life, you may long for those times again or for something that brings you the joy that you once felt.
---
More rarely, this card can denote bad memories that you had repressed such as childhood abuse or trauma. Mistakes that you made which now haunt you, or something that triggers a memory which had long since been forgotten.
---
We can learn a lot from the past so whatever you are recalling ponder a while on how you got there, how it made you feel and do you want to draw that energy into your life again, or avoid it?