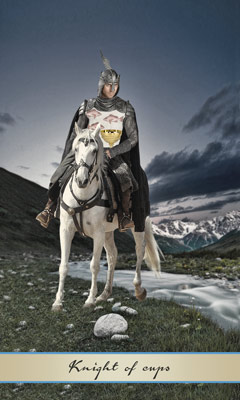 This Knight can represent someone who sweeps you off your feet, but beware, check the surrounding cards; he may disappear as quickly and dramatically as he appeared.
He will always be special, and have a profound effect on you, but his pleasure may be conquering, not keeping.
He may break your heart, but you might look back and feel that the love you felt for that fleeting moment was worth it.
---
This card can also indicate a spiritual awakening. You may be more sensitive to the needs of others, start to look at things from a spiritual point of view and be more in tune with the forces around you that you now sense.
---
You may begin to understand that even the most painful experiences happen for a reason. They serve to remind you that you are the author of your own destiny and also help you to understand that for every choice you make, there is a consequence, good or bad.
This is how you learn what works for you and what does not.