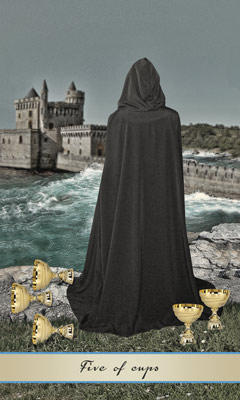 Additional deck interpretation:
The Five of Cups points you towards a path of experiencing extreme emotional let-downs and disappointments as you continue your journey through the seventy-eight passageways of growth.
This is the level on your continuous cycle of change where relationship loss can cause grief, suffering, lack of trust and many regrets.
However strong your pain, you can use it to heal yourself and channel its energy into helping others.
---
Do you remember the time when you could not see the future? You saw only the loss you were going through because we get lost and dwell on the past and cannot forgive ourselves or the person who hurt us.
Sometimes we become obsessed with hurt, disappointment, anger, depression, regret, and are unable to focus on the future because the past still lingers and we cannot see the new opportunities which may appear.
This is a time when your pain can become a powerful conduit of healing because the pain lets you revise your emotional priorities. It also becomes a gift to help others, or the time to throw this pain into something creative. Sometimes artists or writers create their best pictures, songs and books during the more troubling times of their life.
Numerical Number 5: This number indicates a crisis and making adjustments to overcome a relationship problem. It could also be the time of a radical change (a hidden prophecy that makes you start over to grow and expand at a later date).
The Element of Water: The Five of Cups is associated with the elemental water qualities of the planet Pluto (painful transformation) and the zodiac sign of Scorpio. The combination of Pluto in Scorpio brings you into extreme emotional highs and lows.
---
Probable Outcome: You might be experiencing an emotional let-down and are grieving or suffering from a relationship loss. Your sadness and regret make it difficult to look toward the future.
You might be on the verge of severing a relationship because you cannot trust your partner any longer and do not want to be looking over your shoulder while digging through your lover's phone messages and emails.
You cannot forgive yourself or the person who hurt you. You might need professional help because you are obsessed with hurt, disappointment, anger, depression, and regret. You are unable to focus on the future because you are wrapped up in the past and cannot let it go.
Possible Outcome: You have accepted the reason your relationship ended and have recovered from the breakup and you are ready to look to the future, explore and take new risks.
You are allowing new friends to enter your life and you are not isolating yourself from your family and close friends who love you.
Or it's possible that you are finally ready to forgive someone and bury the hatchet, willing to meet them halfway because you will not allow yourself to remain a victim and internalize negative feelings any longer.
Then again, you may be unable to channel the energies of the Five of Cups into your life. If this is the case, you cannot forgive someone. You know time heals all wounds, but at this stage you are not ready to continue a relationship and need more time.
Timing: The Five of Cups is related to an important event when intuition and emotions are turned inwards. A hidden prophecy and unexpected event may be on the verge of happening in the next 1-3 weeks.
The timing shifts when you arrive at the cards that are enumerated 5 in the Tarot. These cards represent challenges, and sometimes these challenges are out of your control.
The cards enumerated 5 send you into a difficult, heart-wrenching situation. Something will break down and force you to start over for a reason. The only way to start over is to break down the existing path so that you are free from it and cannot go back and you won't see the beauty in this painful experience until later.