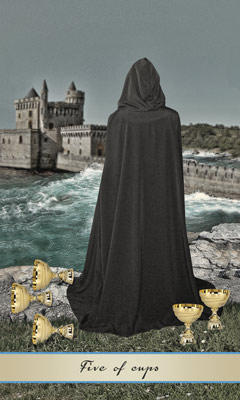 What have you lost and where are you going to find it?
The Five of Cups shows that whilst you are upset and sad over something in your life, you are perhaps pouring more energy into the negative of this event than the positive. This gives the negative more power, and therefore more power over you and your emotions.
With this card the answer comes from "within".
---
There can be a certain sense of righteousness that we hold onto when we feel we have been hard done by. If we continue to ruminate over the unfairness of a situation then it can hold us back and keep us stuck.
The Five of Cups is such a card. It gives us a nudge to say action is needed, on our part, to remove ourselves from any thought patterns that self sabotage us and hold us back further.
If you are dealing with a person who is stuck in the self defeating nature of the Five of Cups, it can be difficult to break through to them as they are not listening.
Sorrow, grief and depression can all be wrapped up in this card, yet all it takes is a leap of faith and these emotions can be left behind. This leap of faith can also come in an instant leaving you wondering why it wasn't taken sooner.
---
It may be time that you pulled yourself out of the doldrums, looked at what has been lost, and then search for what has been gained. It is in what has been gained that you can salvage this situation and in doing so salvage yourself from feeling this way.