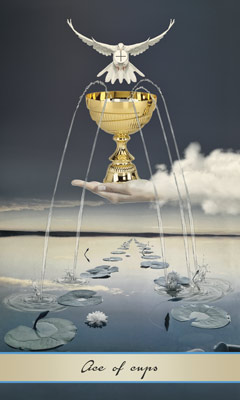 Love is always in the air with the Ace of Cups! This is a card of feelings and emotions whether they be to do with your own self love or a relationship.
There may be a new relationship or love interest on the horizon, or you may be thinking about taking your current relationship to a new level. Whichever it is it is sure to put an extra beat in your step as well as a few extra beats in your heart.
---
When the Ace of Cups shows up in a reading it points to where a relationship is heading. If the cards surrounding it are positive then you count your lucky stars that your love life is on firm ground.
You may feel as if you are on the verge of something new and exciting. There is a sense of inner peace and love as you go about your daily tasks. Do not be surprised if others tune in to the ambiance of the feel good factor radiating from you. There is a certain aura surrounding you at this time wherein you feel you can do no wrong and luck is on your side.
If you have been finding it difficult to get in touch with your emotions, then the Ace of Cups speaks of a time when you shall not only feel comfortable within your emotions, but that you shall also use and learn from them for your own good.
---
The Ace of Cups is also about self love. If you have been feeling the need to take some tender loving care and point it in your own direction then now is the time to do so.
Once others see how much you love and respect yourself then they have no choice but to follow your lead.