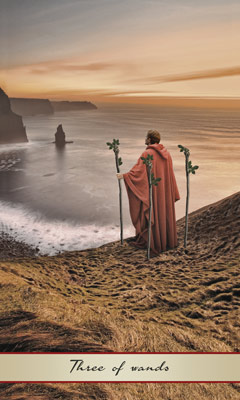 The Three of Wands speaks about the process of finding your own identity. You are discovering who you really are.
Although you may have a vision for who you would like to be, life will be bringing you new circumstances and experiences to help you expand your self-understanding.
This card shows that it is a good time to focus on personal development. Consider taking a class in a subject that you have always wanted to study.
---
Try new things! Is there a travel destination that you have always wanted to explore? Start making your travel plans. Broadening your horizons will help you find out more about yourself.
As you deepen your understanding of who you are, you experience a new level of self-empowerment. You realize that you don't have to prove anything to anyone else.
You become motivated by the desire to self-express rather than the desire to conform to the expectations of others. You stand solidly in your own uniqueness and radiate that frequency out into the world.
If you are asking about a love connection, one or both of you may need space for a period of self-discovery in order to be able to show up fully in the relationship.
Spirit is encouraging you to trust who you are. Have faith in your own identity. Be bold. Be you!
---
Affirmations: I know and trust myself. I am perfectly me.