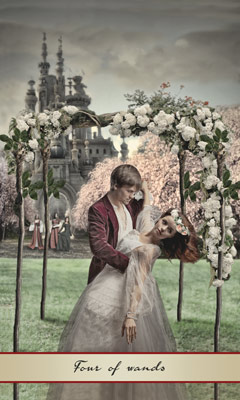 The Four of Wands indicates that you have reached a place of stability. Through hard work and dedication, you have built a solid foundation. Now you can rest and appreciate how far you have come.
The seed of potential symbolized by the Ace of Wands has sprouted and grown roots. The creative endeavor is firmly grounded. It is viable and will continue to grow.
---
What goal have you accomplished? What milestone have you reached in your life? Take the time to acknowledge your achievements.
Enjoy your success before starting to build on it. This is a time for celebration!
The Four of Wands may indicate a celebratory life event such as a wedding, a birth, a house warming, or a family reunion. Gather with your loved ones and make merry. Share the fruits of your labor.
If you are asking about a future life event, such as buying a home or getting married, this card indicates a high probability that your desired outcome will occur.
If you are asking about a relationship break-up, or some other endeavor that has fallen through, you may need to accept the completion, get closure and move on. Your specific vision did not manifest, but there will be another opportunity coming along.
Congratulations! The Universe is giving you a pat on the back. You have done well.
---
Affirmations: I acknowledge my achievements. I take time to celebrate.