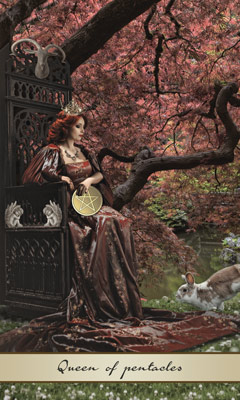 The Queen of Pentacles loves luxury. Nice clothes, a top of the range car, fine jewellery and a well furnished home. She is hard working and ambitious, but will not look down on others purely because they do not have what she has achieved. She can sometimes represent an heiress, or someone of considerable wealth. She is sensible and straightforward. A wonderful mother. She is confident, self assured, assertive, frank and sincere.
---
This card can also represent an effort to preserve something worthwhile, perhaps something of historical value within your community. This card is not about pretentious 'new' money. It is about wealth, quality, establishment and all things refined.
---
Looking after your surroundings, working in your community, doing charitable acts and leaving behind a legacy, are all Queen of Pentacles energy.