The New Lotus Tarot Deck
A work-in-progress by Angie
Angie, our talented resident graphic designer is currently working on our very own Lotus Tarot deck.
The deck is based on the Rider Waite Smith deck, with influence on the Major Arcana cards from Paul Foster Case and his BOTA school of Tarot, so it's a fully authentic esoteric deck, with collaged live photography images instead of artist drawings.
After two years of hard work, Angie has now completed all 78 cards. However, some of the cards shown here are still being tweaked, some completely re-done, until the artist is completely happy with her work. We'll then begin the process of publishing them as a hard copy deck when we have found the right print company. At this point, we are still not sure exactly how we plan to distribute them - we'll post updates to that here on this page and make a site-wide announcement when the deck is finally ready.
If you wish to use this deck in your online readings, you can select it from the deck choice drop-down menu on the reading page. It's the one called Lotus Tarot.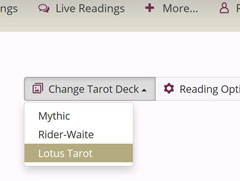 If you'd like to contact Angie to share your thoughts about the deck, or request to be added to the list to be notified when the deck is published, you can do that by clicking here